Buddipole Portable Antenna Original Long Telescopic Whips
and MFJ-1954 Telescopic Whips
Due to its length (10 foot / 3m) the MFJ whips are very unstable in the horizontal position
to use it with the Buddipole.
A support with a cord improves the situation
The Buddipole long versions of the telescopic whips has the same length.
I prefer the Buddipole original long versions, because they are slightly lighter.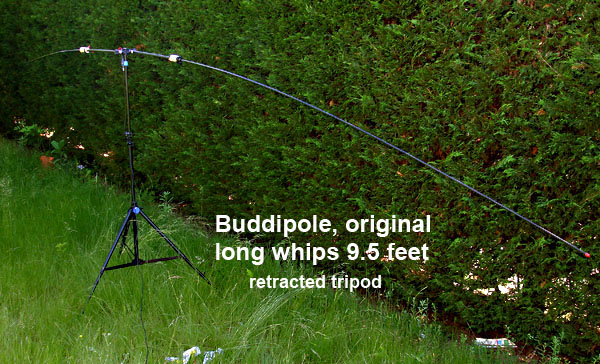 Support for the MFJ-1954 10 foot / 3m long whips

Top support with hose clamp to adjust the tension force for the whips.
Increasing the height increase the tension force and bring the whips in horizontal position.

Hose clamp at the top support.




Fixing the cord at the whip.
The cable strap avoid slipping over the next segment.


To secure the tripod and the mast to withstand wind gusts.